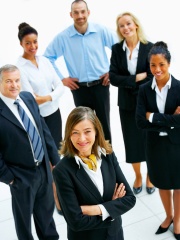 Our producers are a vital part of our business. To help you better serve your clients, we offer a broad base of support services that include:
Single Resource.
One call. One company. The bottom line is that Novus Insurance Brokers can serve as your single source for every international cargo shipment coverage your client need , including coverages for your clients import and export shipments as well as their domestic shipments thru out the world. We set you up as a affiliate with your own user id and password which allows you to set up your clients with their own user id and password
Our family of companies is located in a central facility that allows seamless integration of services.
International Business Support.
If you are a new or occasional producer, we help educate you concerning our products and coach you through the international market. For experienced international producers, we offer advanced, customized products for specialized markets. Whether you're new to the international market or a seasoned veteran, Novus Insurance Brokers is your "international provider of choice."
Marketing Support.
Your success leads to our success. That's why when it comes to marketing your business, Novus Insurance Brokers is a huge asset to you. In addition to Webinar training sessions and Live Chat, our dedicated sales and marketing team, product specialists and Internet marketing specialists are all ready to assist you.
Sales Tools.
We provide you with a virtual international agency - a turnkey online operation helping you increase your sales and revenue. You have access to:
Links for your website that create sales 24/7
Personalized marketing materials that help you promote your agency
Easy access to your clients' information for tracking purposes and remarketing campaigns
Incentive Programs.
We've created a number of incentive programs for our producers, including:
Novus Insurance Brokers-sponsored Pay-per-Click Program – promotes your Web site globally
Rewards Program – offers excellent promotional gifts
Rewards Conference – Training and Sales Recognition
On-site, Multilingual Administrative and Customer Service.
Our administrative functions are performed in-house because it enables us to better serve you. Our staff includes international claims administrators who process tens of thousands of claims each year, handling virtually every language and currency, and multilingual customer service professionals.
International Service Center.
Novus Insurance Brokers is a service and assistance center that provides administrative support and marketing services to our producers overseas, and claims administration and emergency medical assistance to those living and traveling worldwide.
Worldwide Leader.
We don't just follow the pack, we lead it. For more than 20 years, we have consistently and reliably provided the products you need and the services you want. Our reputation has grown because we back up what we promise - Coverage Without Boundaries® that produces Global Peace of Mind®.